Brechin V Dumbarton Saturday 3rd March 2012
Glebe Park
Brechin (
Scottish Gaelic
: Breichinn) is a former
royal burgh
in
Angus
,
Scotland
. Traditionally Brechin is often described as a city because of its cathedral and its status as the seat of a pre-
Reformation
Roman Catholic
diocese
, but that status has not been officially recognised in the modern era. Nevertheless the designation is widely used, with examples being the
Brechin City Football Club
.
On the outskirts of Brechin, beside the A90 dual carriageway, is the
Pictavia
Visitors Centre, a small
museum
in the former town house, and an Award Winning Tourist attraction the
Caledonian Railway (Brechin)
. Along with the cathedral and
round tower
, part of the
chapel
of Brechin's Maison Dieu or hospital survives from the
Middle Ages
.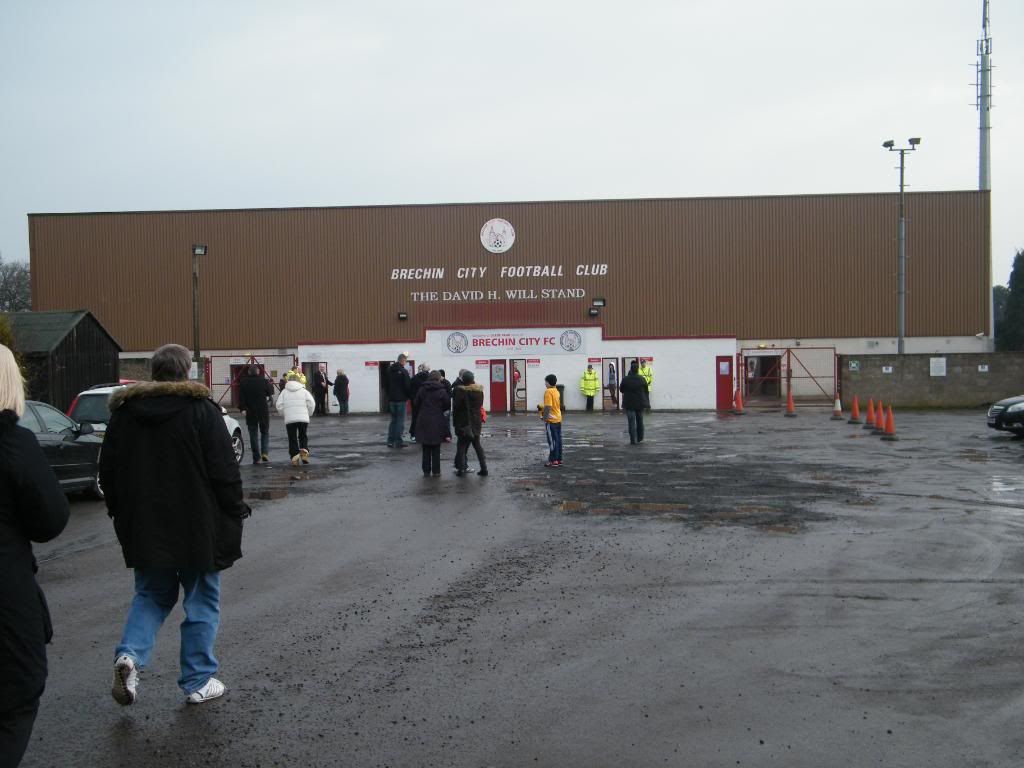 The club was founded in 1906 through the amalgamation of two comparatively successful local junior sides - Brechin Harp and Brechin Hearts. A deputation from the Forfarshire Football Association had met with representatives of the local game at the Temperance Hall in City Road and managed to persuade them that Brechin would benefit from having a single senior club. The club won their first important local honour, the
Forfarshire Cup
, in the
1909–10 season
with a side that featured nine players from the city. The club moved to their Glebe Park home in 1919, a stadium which currently has a capacity of 3,960 (1,519 seated) and is famous for the
hedge
that runs alongside one side of the pitch.
As we left Aberdeen shortly before full time we were out of Aberdeen quickly and easily and were off back down the A90 towards Brechin we arrived at Brechin about 14:45 and had enough time to park up on a side street near by. We left the drizzly wet weather at Aberdeen and were graced with a slightly warmer sunny afternoon. As you enter through the turnstiles you enter behind the goals in a new modern stand. The first thing that grips you is the large hedge. We managed to walk round and take a few pictures before the game kicked off.
In the Dumbarton 11 was ex Rangers Scott Agnew and Celtic Bryan Prunty
You can read a copy of the Match report
Here
Eventually I will write my own reports but since I am a little new I won't this time

Division:-Scottish Second Division
Ticket Price £12
Programme £2
Parking £0
Attendance 459
Score 2-2